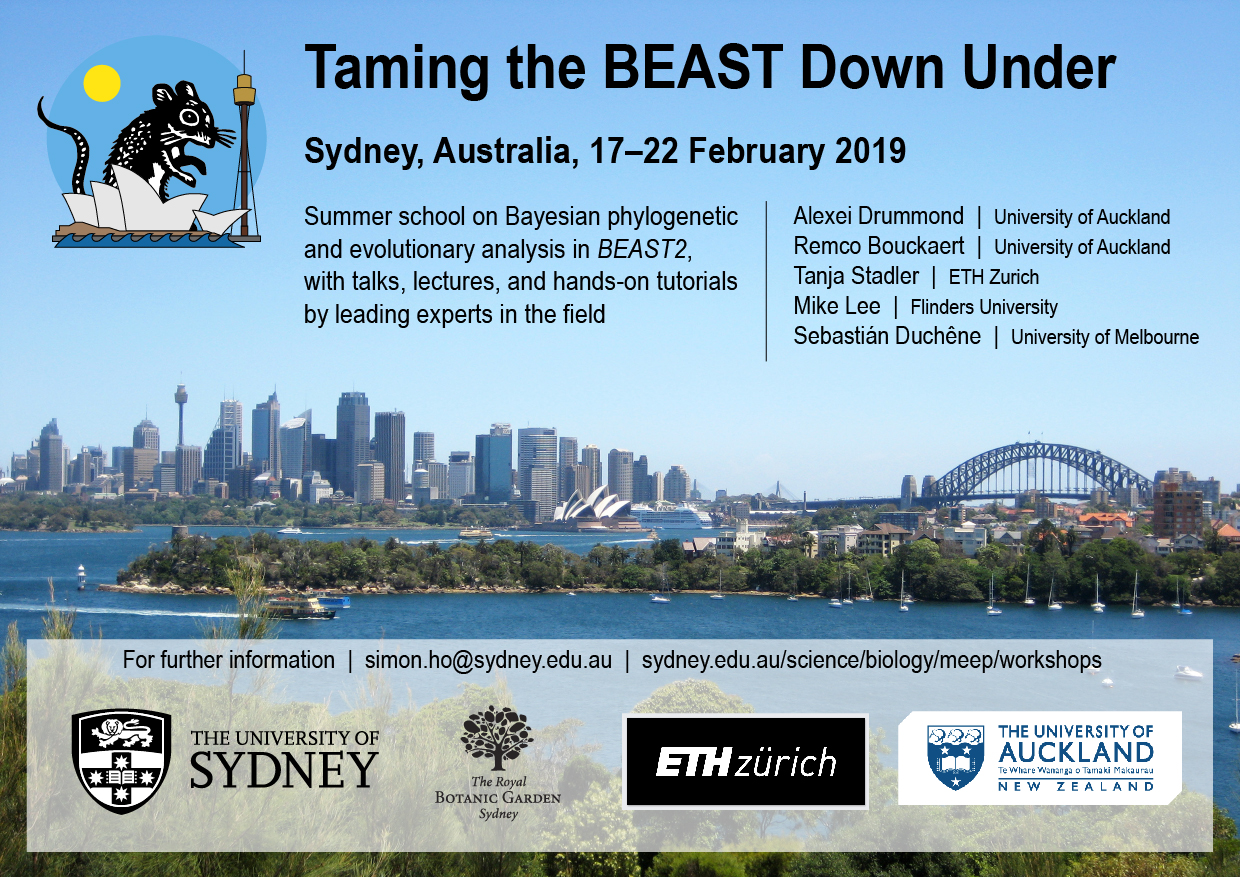 17-22 February 2019, Sydney, Australia
Applications are now open for Taming the BEAST Down Under. This 5-day comprehensive workshop will focus on Bayesian phylogenetic analysis using the BEAST2 software. It is aimed at postgraduate students and early career researchers in the life sciences. Speakers will include the developers of BEAST2 (Remco Bouckaert and Alexei Drummond) as well as leading experts in the field from Australia and Switzerland. The workshop will be held in the beautiful and vibrant harbour city of Sydney.
The course combines lecture sessions, guided tutorials, and opportunities to discuss the analysis of your own data with experts. Topics that will be covered include: Bayesian phylogenetics, molecular clocks, total-evidence dating, phylogenetic model selection, species trees and gene trees, phylodynamic analysis, phylogeography, and trait evolution.
To apply, please send a CV and a brief description of your research interests and explanation of why you would like to attend the workshop (approx. 100 words) to Simon Ho (simon.ho@sydney.edu.au). The application deadline is 31 October and successful applicants will be notified by 10 November.
The registration fee is AU$380. Lunches, morning teas, afternoon teas, and several dinners will be provided. We will offer up to 13 fee waivers for workshop attendees. If you would like to be considered for a fee waiver, please indicate this in your application.
Taming the BEAST Down Under is organised by the Molecular Ecology, Evolution, and Phylogenetics group at the University of Sydney. It follows the successful Taming the BEAST workshops that have been hosted in Switzerland, New Zealand, and the UK.
For more information, please visit our website: https://sydney.edu.au/science/biology/meep/workshops/ or contact Simon Ho (simon.ho@sydney.edu.au).